Posts for: September, 2012
By Dr. Millay
September 25, 2012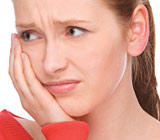 Tooth pain occurs when a trauma or infection triggers a reaction from the nerves inside a tooth's pulp chamber. The severity of the pain and its duration can vary depending on the underlying cause, which can include anything from a loose filling to an abscess. Ignoring symptoms not only results in unnecessary physical and emotional pain, but can also lead to more expensive dental treatment as problems become more complex. Make an appointment with our office today if you are experiencing any of the following symptoms:
Sharp pain when biting down on food — This type of pain could be indicative of a cracked tooth, loose filling, or tooth decay that is affecting one or more of your teeth. We can remove decay and replace a loose filling, but if your tooth is cracked, we will have to determine the location and depth of the crack before formulating a treatment plan. In some cases, root canal treatment or even extraction may be necessary.
Pain that lingers after eating hot or cold foods or liquids — Mild and short-term sensitivity (lasting only seconds or a minute) to hot and cold foods resulting from gum recession can often be soothed by using a fluoride toothpaste made for sensitive teeth. However, an inflamed tooth pulp or one that is dying due to severe decay could cause sensitivity that lingers for a long time after exposure. In this case, root canal treatment may be necessary to remove dying pulp tissue in order to save the tooth.
Constant severe pain and pressure, swelling of the gums, and sensitivity to touch — Infections and/or abscesses can spread from the tooth pulp into the surrounding periodontal tissues and bone causing this type of pain. Root canal treatment will most likely be required.
Dull ache and pressure on one or both sides of the face in the upper teeth region — The sinuses and upper back teeth share the same nerves, so, oftentimes, referred pain from sinus congestion or infection can feel like a toothache. A thorough examination can determine whether or not the pain is dentally related.
If you are experiencing tooth pain, call our office immediately so that we can begin to provide you with some relief. To read about other symptoms of tooth pain and possible treatment options, read the Dear Doctor magazine article "Tooth Pain? Don't Wait!"
By Dr. Millay
September 10, 2012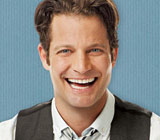 Perhaps you've seen Nate Berkus on The Oprah Winfrey Show or watched his television program, The Nate Berkus Show. You may even have read his best-selling book, Home Rules: Transform the Place You Live Into a Place You'll Love. Regardless of where or how you discovered Berkus, you will surely have noticed his dazzling smile.
Berkus recently opened up about the facts behind his trademark smile during an interview with Dear Doctor magazine. First off, his smile is totally natural, as he never wore braces or had any cosmetic work, including porcelain veneers. However, Berkus does give credit to his childhood dentist for the preventative healthcare he received as a young boy. "I'm grateful for having been given fluoride treatments and sealants as a child," he said. Nate also shared the important flossing advice he learned from his dentist that he still follows today: "Floss the ones you want to keep." Berkus went on to say that he feels, "healthy habits should start at a young age."
And we totally agree! For this reason we have put together the following list of facts and oral hygiene tips:
Over 50% of plaque accumulation occurs in the protected areas between teeth — a place that may be difficult or even impossible to reach with a toothbrush.
A thorough brushing may take up to two minutes at first, and it may feel awkward as you reach some places in your mouth.
Remember, more is NOT always better! Brushing or flossing too hard can be damaging to your teeth and gums. And never saw back and forth with your floss.
To learn more about oral hygiene, including brushing and flossing techniques, you can continue reading the Dear Doctor article "Oral Hygiene Behavior - Dental Health For Life." Or you can contact us today to schedule an appointment so that we can conduct a thorough examination, review your brushing and flossing techniques, and discuss any questions you have as well as treatment options. As needed, we will work with you to teach you the proper brushing and flossing techniques so that you feel confident before you leave our office. And to read the entire interview with Nate Berkus, please see the Dear Doctor article "Nate Berkus."