Posts for: December, 2012
By Dr. Millay
December 19, 2012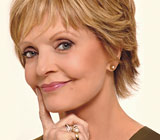 Florence Henderson, star of one of television's most beloved situation comedies, is still actively engaged in a variety of projects at 75-plus years of age. Her bright smile was part of her character as Carol Brady in The Brady Bunch, a popular sitcom that played for five seasons from 1969 to 1974. Though the show was discontinued, syndicated episodes continue to play in the U.S. and 122 other countries.
"I played Carol as the mother I always wished I had," she told Dear Doctor magazine. Her portrayal of mother and wife in a blended family with six children won her the Smithsonian Institution's TV Land Pop Culture Icon Award, which is on display in the National Museum of American History in Washington, DC.
After her successes on Broadway and in television, she was selected for numerous product endorsements, and The Wall Street Journal ranked her #5 in their top ten television endorsers based on viewer satisfaction. One of the products she endorsed was Polident, a brand of denture cleaners and adhesives. However, Henderson has revealed that she has her own natural teeth and does not wear dentures. Her advice to others who want to keep their natural teeth is to pay attention to prevention. "I think the most important thing one can do as with any health issue is prevention," she said. "Flossing, brushing, and regular dental checkups are vitally important if you want to keep your natural teeth."
When she was 22, she says, she had four impacted wisdom teeth removed at the same time. This experience made her aware of the importance of dental care, and since then she has had a checkup every six months. Wherever she travels, she says that she always has mouthwash, dental floss, toothpaste, and a toothbrush on the set.
Contact us today to schedule an appointment to discuss your questions about tooth care. You can learn more about Florence Henderson by reading the Dear Doctor magazine interview "Florence Henderson, America's Favorite TV Mom Has Many Reasons to Smile."
By Dr. Millay
December 04, 2012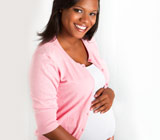 A pregnant woman has a lot to think about while preparing to welcome a new member of her family. It's important to think about her oral health as well. She is sharing her body with the developing infant, so problems with her health — including her dental health — can affect the baby. The following facts will help you understand the relationship between oral health and pregnancy.
A baby's primary (baby) teeth begin to form during the sixth week of pregnancy. They begin to form their enamel (the hard outer layer of the teeth) and dentin layer (just under the enamel) at about the third or fourth month. The calcium, phosphorous, and protein that are needed for these structures must all be provided by the mother's diet.
A good diet for a pregnant mother, in order to provide for both her needs and those of the fetus (the developing baby), includes whole grains, fruits, vegetables — including green leafy vegetables — proteins and dairy products. A doctor may also recommend iron and/or folic acid supplements.
If the mother's diet does not provide enough calcium for the baby's bones and teeth, it will come from calcium stored in her bones — not from her teeth. The old idea that a mother's teeth lose calcium during pregnancy has been found to be a myth.
Progesterone, a normal female hormone, is elevated during pregnancy. This hormone stimulates production of prostaglandins, substances that cause inflammation in gum tissues if the bacteria that cause periodontal (gum) disease are present. The resulting swelling, redness, and sensitive gum tissues, called pregnancy gingivitis, are common during the second to eighth months of pregnancy.
The bacteria involved in periodontal disease can affect whole body conditions such as heart disease and strokes, diabetes, and respiratory diseases. The inflammation resulting from such bacteria can also cause premature delivery (birth before 37 weeks of pregnancy) or low birth weight in the baby.
Periodontal disease is also related to pre-eclampsia, or high blood pressure, during pregnancy.
Dental x-rays do not expose the mother to very high radiation, but in any case every precaution is taken to minimize exposure to the fetus. These include a leaded apron that shields the baby from exposure.
Most drugs commonly used in dentistry, including local anesthetics, can safely be given to pregnant women without affecting the fetus. However, it is important to let your dentist know you are pregnant before embarking on any treatment to make sure anything that is done will be safe for the fetus and its developing teeth.
Contact us today to schedule an appointment to discuss your questions about pregnancy and your oral health. You can also learn more by reading the Dear Doctor magazine article "Pregnancy and Oral Health."