Posts for: January, 2013
By Dr. Millay
January 15, 2013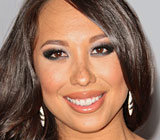 If you've ever watched Dancing with the Stars on television, you've no doubt noticed the vivacious and talented Cheryl Burke, whose ballroom dance moves are as captivating as her bright smile. In fact, Cheryl considers her smile to be one of her most important assets as a professional dancer.
"As a performer, you're basically smiling the whole time," Cheryl told Dear Doctor magazine recently in an exclusive interview. "It's just really important to take care of your teeth and have a great smile."
Cheryl is very conscientious about caring for her smile, but that wasn't always the case. In the Dear Doctor interview, Cheryl revealed that her teeth suffered from ineffective oral hygiene when she was younger. "I definitely had my share of cavities," Cheryl recalled, adding that she believed this was her own fault. "I didn't use floss," She explained. "I think when you do floss frequently, it helps to reduce the chances of getting cavities. It took me a while to figure it out."
Once Cheryl did figure it out, she was able to make cavities a thing of the past. But in order to make sure the effects of her prior tooth decay did not mar her lovely smile, she made sure her dentist — who is also her stepdad! — gave her tooth-colored fillings that could not be distinguished from the surface of a natural tooth. "It's important for me," Cheryl said.
Lots of dental patients feel the same way, even if they don't spend time in front of television cameras. That's why the dental profession has developed tooth-like materials such as composite resins and porcelains that mimic natural tooth material exactly. These materials are also suitable for children's teeth and can incorporate fluoride to reduce tooth decay. It's even possible to replace old silver-colored fillings with these newer dental materials.
If you would like to learn more about tooth-colored fillings, please contact us to schedule an appointment for a consultation. To read Dear Doctor's entire interview with Cheryl Burke, please see "Cheryl Burke." Dear Doctor also has more on "The Natural Beauty of Tooth-Colored Fillings."
By Dr. Millay
January 05, 2013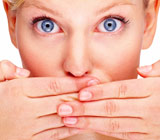 More than 2,000 years ago, an ancient Greek physician, Hippocrates, often called the father of Western medicine, devised a mouth rinse of herbs and wine to sweeten bad breath. This problem has been around a long time, and it is still a major problem for many people. According to some studies it is one of the three main reasons people seek dental treatment.
Here are some facts you may not know about bad breath:
Bad breath is sometimes called halitosis, which comes from the Latin halitus (exhalation) and the Greek osis (a condition or disease-causing process).
Chronic bad breath is usually caused by certain types of oral bacteria. These particular bacteria are present in about 25% of the population.
Bad breath has spawned a major industry in the United States. Americans spend nearly three billion dollars a year on gum, mints, and mouth rinses to sweeten their breath. About 60% of women and 50% of men say they use breath freshening products.
Diseases in the oral cavity such as tooth decay and periodontal (gum) disease can often cause bad breath. If either of these diseases are your cause for bad breath, treatment would be necessary to eliminate this problem.
The tongue is the most common location for bad breath. Bacteria are relatively sheltered on the back of the tongue, where they live on remnants of food, dead skin cells and post-nasal drip. These bacteria can generate volatile sulfur compounds (VSCs) that are also found in decaying animal or vegetable matter. VSCs are known by an unpleasant rotten egg smell.
Bad breath can also be caused by dry mouth (xerostomia). This condition affects millions of people and can result from smoking, alcohol or coffee drinking, and it is sometimes a side effect of medications. Another cause may be mouth breathing.
Halitosis can also originate in other parts of the mouth besides the tongue. These include inter-dental (between teeth) and sub-gingival (under the gums) areas.
When people are starving (and sometimes when they are dieting to lose weight), their bodies begin burning their fats causing their breath to develop the smell of ketones — which smell like acetone, similar to nail polish remover. If people are not eating or drinking the coating on their tongue increases as well, making VSCs more prominent.
At our office, we want to fight bad breath or halitosis by making sure our patients understand how to clean their teeth, gums, the back of the tongue, and dentures.
Contact us today to schedule an appointment to discuss your questions about bad breath. You can also learn more by reading the Dear Doctor magazine article "Bad Breath: More than just embarrassing."