Posts for: April, 2013
By Dr. Millay
April 20, 2013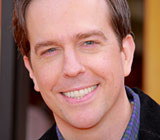 The lengths that some comedians will go to for a laugh! Actor Ed Helms, as dentist Stu Price, pulled out his own tooth in the movie The Hangover. Or did he? Turns out Helms really is missing a tooth, which never grew in. When he was in his late teens, he received a dental implant to make his smile look completely natural.
Helms told People magazine he wasn't exactly eager to remove the implant crown that had served him so well for almost 20 years, but there was no better way to do the famous tooth-pulling scene.
"We started to do different tests with prosthetics and blacking it out and nothing worked," Helms told the magazine. Helms' dentist said it would be okay to take the implant crown out. "My dentist was really into it," Helms said. The rest is movie history!
Congenitally missing ("con" – together with; "genital" – relating to birth) teeth are inherited and actually quite common. More than 20% of people lack one or more wisdom teeth, for example. These would not usually be replaced if missing (in fact, wisdom teeth are often removed) but it's a more serious issue when the missing tooth is in the front of the mouth — and not just for aesthetic reasons.
When a particular type of tooth is missing, it disrupts the pattern and function of the teeth. If left alone, sometimes the existing teeth will shift to close the gap. It's like removing a brick from an arch — the rest of the bricks would fall together in a different formation (or collapse entirely). And when upper and lower teeth don't come together properly, they can't function well.
The best treatment for this type of situation is the one Ed Helms had: a dental implant. They look and function like real teeth and do not attach to or damage adjacent teeth as other tooth-replacement options might.
It is important that a child with a congenitally missing tooth wait until jaw growth is complete — different for every person but usually in the late teens — before getting an implant. Otherwise, the artificial tooth might eventually appear too short when the person has stopped growing. In the meantime, there are temporary tooth replacements that can be made.
If you would like more information about options for congenitally missing teeth, please contact us or schedule an appointment for a consultation. You can learn more by reading the Dear Doctor magazine article "When Permanent Teeth Don't Grow." Dear Doctor also has more on "Teenagers & Dental Implants."
By Dr. Millay
April 04, 2013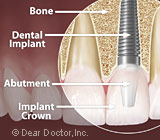 Performing dental implant surgery involves placing a metal post inside the bone of the jaw, and ensuring that it fits so precisely and functions so well that you never notice the tooth replacement — and yet it can last for decades. Does it sound terrifically complex or painful? It's not! In fact, the procedure has a success rate of 95-97%, the highest of any tooth replacement option. Here's what you need to know about dental implant surgery.
A dental implant is designed to replace the root part of the tooth. To replace the visible part of the tooth, a crown, bridge or denture can be attached once the implant is secure — which may be the same day or several weeks later, depending on the individual situation. Dental implants are made of titanium (or its alloys), because this metal has a unique property: it's capable of fusing to bone, a process called osseo-integration.
Before placing the implant, a lot of planning goes on — typically involving X-rays (radiographs), and sometimes CT scans. This ensures that the operation itself goes smoothly. When it's time for the procedure you'll receive a local anesthetic, and we'll make sure you don't feel anything.
Next, we access the bone itself, often by making a small flap-like incision in the gum tissue. The living bone is handled with extreme care as a tiny amount is removed to make space for the implant. After the implant is fitted precisely in the bone, the gum tissue is closed, often with self-absorbing sutures (stitches) that don't need removal. And then the procedure's over.
Is implant placement painful? The simple answer is no — most people feel no pain during surgery and very little discomfort afterward. At most, you may experience some mild vibration during the bone preparation process. If you're nervous about the procedure, it's possible to have a sedative or anti-anxiety medication beforehand. Afterward, taking mild non-steroidal anti-inflammatory medication for a day or two is usually all you need to relieve any post-operative discomfort.
If you have questions about dental implant surgery, please contact us or schedule an appointment for a consultation. You can learn more in the Dear Doctor magazine articles "Dental Implant Surgery" and "Dental Implants."