Posts for: July, 2013
By Dr. Millay
July 30, 2013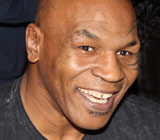 Mike Tyson's gap-toothed smile is part of athlete-turned-celebrity's signature look. During his two-decade career as a professional boxer, the former heavyweight champion has been known for both giving — and occasionally receiving — knockout punches. But the story of how he lost one set of front teeth is a bit more unusual.
In a recent interview with the Las Vegas Review Journal, Tyson's wife Kiki stated that one of the champ's major dental dilemmas didn't come from blows inside the ring. In fact, she said, Tyson lost the teeth after being head-butted by his pet tiger, Kenya.
It's too bad Tyson wasn't wearing a mouthguard before he decided to play with kitty.
Fight fans know that boxers always put in a mouthguard before they enter the ring. But the pugilistic pursuit is just one among the two-dozen-odd sports for which the American Dental Association recommends the use of custom mouthguards. Others include baseball, skateboarding, surfing and bicycling. (Maybe horsing around with tigers should be added to the list!)
Why is it so important for participants in athletic activities to use this piece of protective gear? According to the U.S. Centers for Disease Control, sports-related dental injuries account for over 600,000 emergency-room visits each year. Many of these injuries require further dental treatment; some may lead to tooth loss and require costly replacement. Not wearing a mouthguard makes an athlete 60 times more likely to sustain harm to the teeth, according to the American Dental Association. So there's really no contest.
You can find basic, off-the-shelf mouthguards in limited sizes at many sporting goods stores. But for a reasonable cost, we can provide you with a properly fitted dental appliance that's custom-made just for you. Starting with a precise model of your teeth, individual mouthguards are crafted from impact-resistant materials which are designed to be strong, comfortable, resilient — and effective.
Research shows that custom-made mouthguards offer superior quality and protection. So if you or your loved ones like to get out on the playing field, don't neglect this important piece of sporting equipment. And watch out for the cat.
If you have questions about mouthguards, please contact us or schedule an appointment for a consultation. You can learn more in the Dear Doctor magazine article "Athletic Mouthguards."
By Dr. Millay
July 15, 2013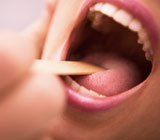 There are some people, particularly women around the age of menopause, who experience an uncomfortable burning and dry sensation in their mouths most of the time. The exact cause of this condition, known as "burning mouth syndrome," is often difficult to determine, though links to a variety of other health conditions have been established. These include diabetes, nutritional deficiencies (of iron and B vitamins, for example), acid reflux, cancer therapy, and psychological problems. Hormonal changes associated with menopause might also play a role.
If you are experiencing burning sensations and dryness, please come in and see us so we can try to figure out what's causing these symptoms in your particular case. We will start by taking a complete medical history and getting a list of all the medications you are taking as some drugs are known to cause mouth dryness. We will also give you a thorough examination.
In the meantime, here are some ways you might be able to get some relief:
Give up habits that can cause dry mouth such as chronic smoking, alcohol and/or coffee drinking, and frequent eating of hot and spicy foods.
Keep your mouth moist by drinking lots of water. We can also recommend products that replace or stimulate production of saliva.
Try different brands of toothpastes, opting for "plain" varieties that don't contain the foaming agent sodium lauryl sulfate, whiteners, or strong flavoring such as cinnamon.
Keep a food diary of everything that you put into and around your mouth (including food, makeup and personal care products). This might give us some clues as to what's causing your discomfort.
Check with us about any medications you are taking, either prescription or over-the-counter. We can tell you if any are known to dry out the mouth and maybe help you find substitutions.
Reduce stress in your life if you possibly can. This might be achieved through relaxing forms of exercise, joining a support group for people dealing with chronic pain, or seeking psychotherapy.
If you have concerns about burning mouth syndrome or any other type of oral discomfort, please contact us to schedule an appointment for a consultation.