Posts for: August, 2013
By Dr. Millay
August 29, 2013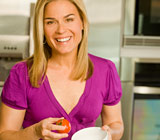 Cat Cora is a world-class chef, restaurateur, best-selling author, and philanthropist — on top of being the first female chef on the hit television show Iron Chef America. She is also the mother of four active young sons. And while all these important roles require her daily attention, she makes oral health a top priority for herself and her family through diet, brushing, flossing and routine visits to the dentist.
During a recent interview with Dear Doctor magazine, Cat revealed that she had her wisdom teeth removed when she was in her thirties and another tooth extracted and replaced with a dental implant. When asked to compare the two experiences, Cat said that the implant was "much easier for me." She went on to say, "It feels very natural" and "now, I don't even think about it."
Some may be surprised by Cat's response; however, we find it to be a quite common one.
There is no question that over the last two decades, dental implants have revolutionized tooth replacement and the field of dentistry. A dental implant, used to replace missing teeth, is placed in the jawbone with a minor surgical procedure. What's amazing is that over time these dental implants actually fuse with or integrate into the bone, thus making them an ideal permanent solution for replacing a missing tooth. They are typically made of commercially pure titanium, a substance that has been used for medical and dental implants for years. The crown, the part above the gum tissues, is attached to the implant via a retaining screw and a connecting piece called an abutment. The crown itself is artistically crafted using porcelain to mimic the look and feel of a natural tooth — just as Cat Cora describes.
To learn more about dental implants, continue reading the Dear Doctor magazine article "Dental Implants, Your Third Set of Teeth." Or you can contact us today to schedule an appointment so that we can conduct a thorough examination and discuss what treatment options will be best for you. And to read the entire interview with Cat Cora, please see the article "Cat Cora."
By Dr. Millay
August 14, 2013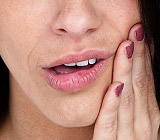 In a healthy tooth, a coating of enamel protects the crown — the part above the gum line — and a layer of cementum protects the tooth root below the gum line. Enamel and cementum are inert (nonliving) substances that do not respond to stimuli such as heat or cold; however, dentin, the living tissue below them, does. Dentin contains numerous microscopic tubules that readily transmit stimuli toward the nerve-filled center of the tooth (pulp tissue). Loss of protective enamel or cementum leaves dentin exposed to all sorts of stimuli in the oral environment, which can trigger "dentinal hypersensitivity" — anything from a mild twinge to shooting pain.
Fortunately, there are many options for treating hypersensitivity. The key to selecting the most appropriate one(s) is determining the cause(s). Some of the more common reasons for sensitivity due to dentin exposure include:
Enamel erosion caused by an "acid attack" related to external (extrinsic) causes — i.e., consumption of acidic beverages/food — or internal causes — i.e., regurgitation of stomach acids due to gastroesophageal reflux disease [GERD] or the eating disorder bulimia
Using an overly abrasive brush or toothpaste, brushing incorrectly or too frequently, or brushing too soon after an "acid attack" — all of which can result in a loss of enamel
Tooth decay (dental caries or cavities)
Tooth fracture or chipping: tooth grinding (bruxism) is a common cause
Worn fillings
Gum recession, due to age or improper tooth brushing, that exposes the tooth root
Gum disease, which can result in gum recession
Sensitivity can also occur following a procedure like treating a cavity. Normally it subsides within a couple of weeks or so but if it continues there may be another underlying cause.
Whatever the source(s) of your discomfort, our office can get to the bottom of it and recommend an effective course of treatment that meets your personal needs!
If you would like more information about tooth sensitivity, please contact us or schedule an appointment for a consultation. You can also learn more about this topic by reading the Dear Doctor magazine article "Sensitive Teeth."