Posts for: September, 2013
By Dr. Millay
September 23, 2013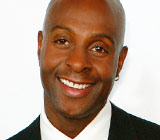 As a Pro Football Hall of Famer and first runner up on the hit television show Dancing with the Stars, Jerry Rice has a face and smile that truly has star quality. However, that was not always the case. During an interview with Dear Doctor magazine, the retired NFL pro discussed his good fortune to have had just a few minor dental injuries throughout his football career. He went on to say that his cosmetic dentist repaired several of his chipped teeth with full crowns. Rice now maintains his beautiful smile with routine cleanings and occasional tooth bleaching.
If you have chipped, broken or missing teeth, or are considering a smile makeover, we want to know exactly what you want to change about your smile, as the old adage is true: Beauty is in the eyes of the beholder. This is one reason why we feel that listening is one of the most important skills we can use during your private, smile-makeover consultation. We want to use this time to ensure we see what you see as attractive and vice versa so that together we can design a realistic, achievable blueprint for your dream smile.
For this reason, we have put together some questions you should ask yourself prior to your appointment:
What do you like and dislike about the color, size, shape and spacing of your teeth?
Do you like how much of your teeth show when you smile and when your lips are relaxed?
Are you happy with the amount of gum tissue that shows when you smile?
Do you prefer a "Hollywood smile" with perfectly aligned, bright white teeth, or do you prefer a more natural looking smile with slight color, shape and shade variations?
To learn more about obtaining the smile you want, continue reading the Dear Doctor magazine article "Great Expectations — Perceptions In Smile Design." Or you can contact us today to schedule an appointment so that we can conduct a thorough examination and discuss your cosmetic and restorative dentistry treatment goals. And if you want to read the entire feature article on Jerry Rice, continue reading "Jerry Rice — An Unbelievable Rise To NFL Stardom."
By Dr. Millay
September 13, 2013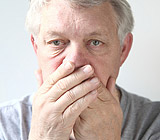 Halitosis (bad breath) is a major personal and social concern — so much so that Americans spend nearly $3 billion annually on rinses, mints and gum to freshen breath. While helpful in alleviating occasional bad breath caused by oral dryness (brought on by stress, eating certain foods, prescription medications, smoking or consuming alcohol), those with chronic halitosis require a much different treatment approach.
That's because there are a number of possible causes for chronic halitosis, among them: xerostomia (chronic dry mouth), caused by mouth breathing; periodontal (gum) disease; or candidiasis, a yeast infection caused by some antibiotics. It may also arise as a secondary symptom of systemic diseases like liver disease, diabetes or cancer.
The most common cause, though, is bacteria. Many types of oral bacteria can produce terrible odors, most notably volatile sulphur compounds (VSCs) with their "rotten egg" smell. Because of its relative dryness and difficulty in cleaning, the back of the tongue is a wonderful environment for bacteria to multiply and thrive.
If you suffer from chronic halitosis, our primary objective then is to try to uncover its specific cause, which will determine what course of treatment we would recommend. First, what is your experience with halitosis — have others noticed it or just you? Next, we would consider your medical history — have you had any health issues with your ears, nose or throat, or experienced any gastrointestinal disorders or lung problems? What kind of medications do you take, and are your kidneys and liver functioning properly? We would also perform a thorough dental exam for any signs of tooth decay, gum disease or a dry, coated tongue as well as look at your diet and lifestyle choices, like smoking or alcohol use.
Having a better idea of what may be causing your bad breath, we can then tailor a treatment plan that might involve, among other things, treatment for tooth decay, a periodontal cleaning (scaling), instruction on better oral hygiene and tongue cleaning with a scraper or brush, or the removal of third molars where debris may be accumulating in the gum flaps.
Finding the cause of bad breath can take time, but is well worth the effort. The end result is a treatment plan that works.
If you would like more information on understanding and treating chronic halitosis, please contact us or schedule an appointment for a consultation. You can also learn more about this topic by reading the Dear Doctor magazine article "Bad Breath: More than just embarrassing."