Posts for: December, 2013
By Dr. Millay
December 24, 2013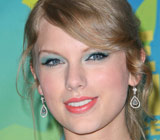 "Break a leg" is a well-known theatrical expression for wishing good luck to an actor about to go on stage. Singers should have one of their own…"Chip a tooth"! Apparently collisions between microphones and pearly whites are an occupational hazard for crooners. Taylor Swift became one of the latest casualties during a concert in Pittsburgh while belting out her hit "I Knew You Were Trouble." The consummate professional, she didn't miss a beat and kept on singing despite seeing a tooth chip hit the floor.
After all, while chipping a tooth is an inconvenience, it's not a permanent smile wrecker. Modern dentistry offers several options for restoring a damaged tooth to its original symmetry and luster, or even better!
Bonding
Dental cosmetic bonding is the quickest and lowest-cost option to repair a chip. This involves application of a composite filling material that is colored and shaped to match the original tooth. Bonding material can be used to replace the lost portion of tooth or to seamlessly reattach the lost portion if it has been preserved and is otherwise undamaged. Little to no removal of existing tooth surface is needed.
Veneers
A veneer can be used for slightly larger areas or discolored teeth. This is a thin, custom-made shell placed on the front of the tooth to give it a new "face." Some removal of existing tooth surface may be necessary to fit a veneer so it is flush with the surfaces of surrounding intact teeth.
Crowns
When a relatively large portion of the tooth is missing, a crown is often the better choice. It fully encases the visible portion of the remaining tooth above the gum line and is shaped and sized to match the original. It can be made of tooth-colored porcelain fused to metal crowns or all-ceramic (optimal for highly visible areas). A small amount of the existing tooth surface will be removed to allow the crown to fit over it.
If you would like more information about repairing a chipped tooth, please contact us or schedule an appointment for a consultation. You can also learn more about this topic by reading the Dear Doctor magazine article "Artistic Repair of Front Teeth With Composite Resin."
By Dr. Millay
December 10, 2013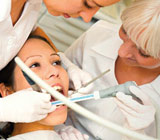 Dental plaque (a film of bacteria that forms on your teeth) is known to be the main cause of periodontal (gum) disease. When the bacteria settle on your teeth they form a whitish film called biofilm. Those that are not removed cause formation of "pockets," areas of separation between the teeth and their surrounding gums, in which plaque hardens into deposits known as calculus or tartar. The purpose of having your teeth cleaned regularly by a trained professional hygienist is to remove deposits of plaque and calculus. Removal of hard deposits on your teeth is called "scaling." This can be done either by using hand-held scalers or by newer technology: ultrasonic power scalers.
Let's take a look at the strengths and weaknesses of both types of instruments.
Power Scalers
How they work: These instruments use the energy of ultrasonic vibration to crush and remove hard, calcified deposits of calculus. They also create shockwaves that disrupt bacterial cells. Use of these tools includes washing and flushing the pockets and any exposed root surfaces with water.
Pros: They are as effective as manual instruments for calculus removal in shallow gum pockets and significantly more effective in pockets greater than 4mm. They are very effective in removing calculus from root surfaces and from within periodontal pockets. Their small tips can penetrate deeper into periodontal pockets than manual instruments and are more comfortable to experience, and they are more effective for cleaning difficult nooks and crannies. Coolant sprays flush the area and remove bacteria and their by-products. They require less time than manual instruments.
Cons: A contaminated mist may form so that the hygienist needs to wear protective equipment. The vibration of the ultrasonic instruments may make it difficult to feel if the root surface is completely smooth and free of calculus. Power scalers affect some heart pacemakers.
Conventional Hand-held Scalers
How they work: These depend on the skill and knowledge of the hygienist to manipulate them and scrape away calculus (tartar) from teeth and within pockets.
Pros: They are equally effective for plaque and calculus removal from shallow gum pockets. They do not interfere with electronic equipment like heart pacemakers. They can be used more easily on teeth in which there are areas of demineralization (areas where minerals have been removed from the tooth's enamel, making it more vulnerable to decay). They are easier on the tooth's surface and are thus better for use with porcelain or composite restoration, or sensitive teeth.
Cons: They take longer to complete a cleaning. Sometimes they cause more discomfort than ultrasonic scalers.
In most cases the choice of scalers is not really an either/or situation. Most experts say that the best results come through using both types of instruments. As a result, cleanings can be done with effective and efficient outcomes and greater patient comfort.
Contact us today to schedule an appointment to discuss your questions about dental cleanings. You can also learn more by reading the Dear Doctor magazine article, "Dental Cleanings Using Ultrasonic Scalers."