Posts for: March, 2014
By Dr. Millay
March 18, 2014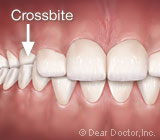 When most people think of orthodontic treatment, they may think of braces worn during the teenage years. But there are some types of malocclusions (bad bites) that may benefit from intervention much earlier than adolescence. A cross-bite is one example.
A cross-bite occurs when the front teeth of the lower arch bite in front of the upper teeth rather than behind them. The condition can have an adverse effect on any of the six front teeth of either arch. This type of malocclusion can develop quite early in childhood.
Orthodontists have developed a two-phase treatment for a cross-bite, with the possibility that the first phase may be all that's needed. If your child has a cross-bite, your orthodontist may first recommend he or she wear a specially-designed retainer for a few months. The retainer could stop and correct an existing problem before it becomes worse, or it could prevent a deeper problem from developing in the first place. The retainer could also help guide jawbone development during these formative years, even as early as age 7, for children at risk.
Even if this first phase doesn't fully correct the cross-bite and the second phase (most likely braces or a similar orthodontic device) becomes necessary, it could still help to make the second phase easier and less costly. On the other hand, if orthodontic treatment is postponed until adolescence when the mouth structures are more fully formed it may become quite difficult or even impossible to correct the problems that have developed.
As a result, early intervention for this or similar orthodontic conditions is the most efficient strategy, even when later treatment is necessary. As part of your child's regular dental care (which should begin ideally around their first birthday), we can advise you on any need for an orthodontic evaluation based on our observations. An orthodontist can then best advise whether waiting until later for treatment is best, or whether intervention now could lessen problems later.
If you would like more information on preventative orthodontics, please contact us or schedule an appointment for a consultation. You can also learn more about this topic by reading the Dear Doctor magazine article "Preventative & Cost Saving Orthodontics."
By Dr. Millay
March 03, 2014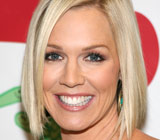 Plenty of parents use little tricks to persuade young ones to eat their vegetables, wash their hands, or get to bed on time. But when actress Jennie Garth wanted to help her kids develop healthy dental habits, she took it a step further, as she explained in a recent interview on Fox News.
"Oh my gosh, there's a froggy in your teeth!" the star of the '90s hit series Beverly Hills 90210 would tell her kids. "I've got to get him out!"
When her children — daughters Luca, Lola, and Fiona — spit out the toothpaste, Garth would surreptitiously slip a small toy frog into the sink and pretend it had come from one of their mouths. This amused the kids so much that they became engaged in the game, and let her brush their teeth for as long as necessary.
Garth's certainly got the right idea. Teaching children to develop good oral hygiene habits as early as possible helps set them up for a lifetime of superior dental health. Parents should establish a brushing routine with their kids starting around age 2, when the mouth is becoming filled with teeth. A soft, child's size toothbrush with a pea-sized dab of fluoride toothpaste and plenty of parental help is good for toddlers. By around age 6, when they've developed more manual dexterity, the kids can start taking over the job themselves.
Here's another tip: It's easy to find out how good a cleaning job your kids are doing on their own teeth. Over-the counter products are available that use a system of color coding to identify the presence of bacterial plaque. With these, you can periodically check whether children are brushing effectively. Another way of checking is less precise, but it works anywhere: Just teach them to run their tongue over their teeth. If the teeth fell nice and smooth, they're probably clean, too. If not... it's time to pull out the frog.
And don't forget about the importance of regular dental checkups — both for your kids and yourself. "Like anything, I think our kids mirror what we do," says Garth. We couldn't agree more.
If you need more information about helping kids develop good oral hygiene — or if it's time for a checkup — don't hesitate to contact us and schedule an appointment. You can learn more in the Dear Doctor magazine article "How to Help Your Child Develop the Best Habits for Oral Health."