Posts for: October, 2014
By Dr. Millay
October 24, 2014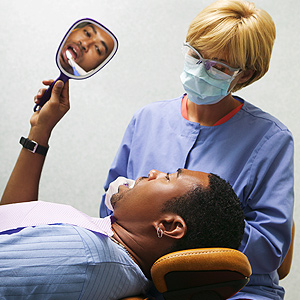 Every good oral hygiene regimen has two parts — the part you do (brushing and flossing) and the part we do (professional cleanings and checkups).
But what's involved with "professional cleanings" — and why do we perform it? The "why" is pretty straightforward — we're removing plaque and calculus. Plaque is a thin film of bacteria and food remnant that adheres to tooth surfaces and is the main culprit in dental disease. Calculus (tartar) is calcified plaque that occurs over time as the minerals in saliva are deposited in bacterial plaque. It isn't possible for you to remove calculus regardless of your efforts or hygiene efficiency. Ample research has shown that calculus forms even in germ-free animals during research studies, so regular cleanings are a must to keep you healthy.
The "what" depends on your mouth's state of health and your particular needs. The following are some techniques we may use to clean your teeth and help you achieve and maintain healthy teeth and gums.
Scaling. This is a general term for techniques to manually remove plaque and calculus from tooth surfaces. Scaling typically encompasses two approaches: instruments specially designed to remove plaque and calculus by hand; or ultrasonic equipment that uses vibration to loosen and remove plaque and calculus, followed by flushing with water and/or medicaments. Scaling can be used for coronal maintenance (the visible surfaces above the gum line) or periodontal (below the gum line).
Root planing. Similar to scaling, this is a more in-depth technique for patients with periodontal disease to remove plaque and calculus far below the gum line. It literally means to "plane" away built up layers of plaque and calculus from the root surfaces. This technique may employ hand instruments, or an ultrasonic application and flushing followed by hand instruments to remove any remaining plaque and calculus.
Polishing. This is an additional procedure performed on the teeth of patients who exhibit good oral health, and what you most associate with that "squeaky clean" feeling afterward. It's often performed after scaling to help smooth the surface of the teeth, using a rubber polishing cup that holds a polishing paste and is applied with a motorized device. Polishing, though, isn't merely a cosmetic technique, but also a preventative measure to remove plaque and staining from teeth — a part of an overall approach known as "prophylaxis," originating from the Greek "to guard or prevent beforehand."
If you would like more information on teeth cleaning and plaque removal, please contact us or schedule an appointment for a consultation. You can also learn more about this topic by reading the Dear Doctor magazine article "Teeth Polishing."
By Dr. Millay
October 09, 2014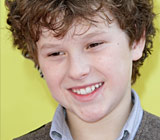 Nolan Gould, who plays Luke on the popular TV comedy Modern Family, has beautiful, straight teeth. But in an exclusive interview with Dear Doctor magazine, the young actor said it wasn't always that way.
"My teeth used to be pretty messed up," Nolan said. "I had two extra teeth when I was born. They hadn't come out (erupted) yet. And all the other teeth that were already there were starting to point backwards because it was getting so crowded in my mouth. At about the age of 7, I started going to the orthodontist to get my teeth checked."
Age 7 may sound early for a visit to the orthodontist, but in fact that's exactly the age we recommend for a first orthodontic evaluation. Malocclusions (bad bites) often become noticeable around this time, as the child's permanent (adult) teeth erupt. We might already be able to see evidence of the following problems: crowding, too much space between teeth, protruding teeth, extra or missing teeth, and sometimes problems with jaw growth. So even if your child is too young for braces, it is not necessarily too early for an orthodontic evaluation.
This type of exam can spot subtle problems with jaw growth and emerging teeth while some baby teeth are still present. Early detection of orthodontic problems makes it easier to correct those problems in the long run. Waiting until all of the permanent teeth are in, or until facial growth is nearly complete, may make correction more difficult or even impossible. That's why the American Association of Orthodontists recommends that all children get a check-up with an orthodontist no later than age 7.
Orthodontic treatment itself usually begins between ages 7 and 14. Therapy that begins while a child is still growing, often referred to as "interceptive orthodontics," helps produce optimal results. In Nolan's case, an early orthodontic evaluation allowed his orthodontist enough time to plan the most effective treatment. Nolan's two extra teeth were removed before they had a chance to push his other teeth even further out of alignment, and he was given orthodontic appliances which fit behind the teeth.
"You can remove them, which is really good for acting, especially because you can't see them. I can wear them 24/7 and nobody will ever notice."
One thing that is noticeable, however, is Nolan's perfectly aligned smile!
If you would like to learn more about improving tooth alignment with orthodontics, please contact us to schedule an appointment for a consultation. To read Dear Doctor's entire interview with Nolan Gould, please see "Nolan Gould." Dear Doctor also has more on an "Early Orthodontic Evaluation."