Posts for: April, 2015
By Dr. Millay
April 23, 2015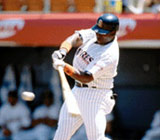 Chewing tobacco is a known cause of oral cancer, yet many a Major League Baseball player has been seen walking onto the field with a round tin visibly poking out of his back pocket. That was before this year. Recognizing the influence big-leaguers have on their young fans, MLB players agreed to a new contract that limits their use of chewing tobacco and their ability to carry it around their fans. The 2012 season is the first to be played under the new rules, which were championed by Baseball Commissioner Bud Selig.
One player who used smokeless tobacco heavily is Baseball Hall of Famer Tony Gwynn. The former Padres slugger earlier this year endured 14 hours of surgery to remove a cancerous growth from the inside of his right cheek and graft a nerve from his shoulder to replace a facial nerve damaged by the tumor. This was Gwynn's second cancer surgery in less than two years.
When it comes to oral cancer, the importance of early detection can't be stressed enough. Unfortunately, this form of cancer is not usually detected until a late stage so the overall survival rate is poor, with only 58% surviving five years after treatment. Yet when oral cancer is detected while a lesion is small, survival rate exceeds 80%. That's why an oral cancer screening is always part of your dental check-up or regular cleaning appointment at this office.
During this screening we will examine your face, neck, lips, mouth, tongue and the back of your throat for any suspicious lesions (sores or ulcers) or lumps. Of course, if you notice any unusual lesions, or color changes (white or red patches), anywhere in your mouth that do not heal within two-three weeks, please come in to see us as soon as possible. And if you need help kicking a tobacco habit, we can advise you on how to get it.
If you would like more information about oral cancer, please contact us or schedule an appointment for a consultation. You can also learn more by reading the Dear Doctor magazine article "Oral Cancer."
By Dr. Millay
April 08, 2015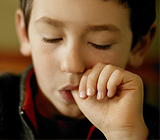 One of the most common parental concerns is the habit of many children, even late into childhood, to suck their thumbs or fingers. Many parents have asked us, "Could this affect their teeth?"
The answer, unfortunately, is yes — thumb sucking can contribute to a malocclusion (bad bite) that could eventually require orthodontic treatment. Before making any assumptions, however, we need to understand the bigger picture.
To begin with, infants have a different swallowing mechanism than adults and older children. When you as an adult swallow, you'll notice the tip of your tongue positions itself just above the back of the top front teeth. An infant, however, will thrust their tongue between their upper and lower jaw as they swallow (also known as an infantile swallowing pattern or primary tongue thrust). The infant normally begins changing to an adult swallowing pattern when their primary (baby) teeth begin to erupt.
However, if a child's swallowing transition is slower than normal and the tongue rests between the jaws for a longer duration, it can inhibit the full eruption of teeth, believed to be the main cause of an open bite (a gap between the upper and lower teeth when the jaws are shut). The thumb during sucking resting between the teeth can have the same effect.
Thumb sucking may not necessarily lead to a malocclusion — for example, an abnormally developing jawbone could be the culprit. If prolonged thumb sucking does become a concern, however, there are steps we can take to reduce the impact of the habit. We can install a thin metal "tongue crib" behind the upper and lower incisors that will not only discourage thumb sucking, but also help retrain the tongue not to rest between the upper and lower teeth. There are also exercise routines known as orofacial myofunctional therapy (OMT) that can retrain specific muscles in the mouth to encourage more normal chewing and swallowing patterns.
These steps may not prevent future orthodontic treatment, but they could reduce its extent. The key is regular dental checkups and consultation to ensure your child's teeth and bite are developing normally.
If you would like more information on the effects of chronic thumb sucking on the mouth, please contact us or schedule an appointment for a consultation. You can also learn more about this topic by reading the Dear Doctor magazine article "How Thumb Sucking Affects the Bite."