Posts for tag: nutrition
By Dr. Millay
October 19, 2018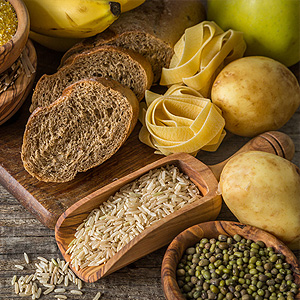 If you've had issues with periodontal (gum) disease, no doubt a few things have changed for you. You may be seeing us for dental cleanings and checkups more frequently and you have to be extra diligent about your daily brushing and flossing.
There's one other thing you may need to do: change your diet. Some of the foods you may be eating could work against you in your fight against gum disease. At the same time, increasing your intake of certain foods could boost your overall oral health.
The biggest culprits in the first category are carbohydrates, which make up almost half the average diet in the Western world, mainly as added sugar. Although carbohydrates help fuel the body, too much can increase inflammation—which also happens to be a primary cause of tissue damage related to gum disease.
Of course, we can't paint too broad a brush because not all carbohydrates have the same effect on the body. Carbohydrates like sugar or processed items like bakery goods, white rice or mashed potatoes quickly convert to glucose (the actual sugar used by the body for energy) in the bloodstream and increase insulin levels, which can then lead to chronic inflammation. Complex or unprocessed carbohydrates like vegetables, nuts or whole grains take longer to digest and so convert to glucose slowly—a process which can actually hinder inflammation.  
Eating less of the higher glycemic (the rate of glucose conversion entering the bloodstream) carbohydrates and more low glycemic foods will help reduce inflammation. And that's good news for your gums. You should also add foods rich in vitamins C and D (cheese and other dairy products, for instance) and antioxidants to further protect your oral health.
Studies have shown that changing to a low-carbohydrate, anti-inflammatory diet can significantly reduce chronic inflammation in the body and improve gum health. Coupled with your other efforts at prevention, a better diet can go a long way in keeping gum disease at bay.
If you would like more information on the role of diet in dental health, please contact us or schedule an appointment for a consultation. You can also learn more about this topic by reading the Dear Doctor magazine article "Carbohydrates Linked to Gum Disease."
By Dr. Millay
March 28, 2018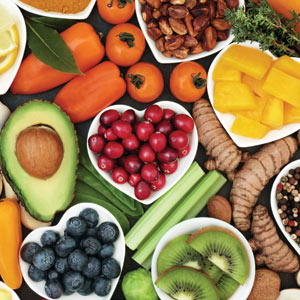 March is national nutrition month—a good time to look at the connection between diet and oral health. You probably know that sugar is a major culprit in dental problems. This is because bacteria feed on sugars and create acid that can lead to tooth decay and gum disease. Avoiding sugary foods and drinks as much as possible is a good rule of thumb, but there are some food choices that actually benefit your oral health. Here are nutrition tips that will help keep your smile healthy for life:
Say cheese. Dairy products such as milk, cheese and yogurt contain calcium and phosphorus to build teeth and strengthen the supporting bone. And cheese neutralizes acid in the mouth to help fight cavities and gum disease.
Choose lean proteins. Lean meats, poultry, fish, milk and eggs help strengthen teeth. They are rich in protein and phosphorous, which is essential for building strong bones and teeth.
Eat a rainbow. Fruits and vegetables provide many key nutrients, including vitamins necessary for healing, bone strength, and healthy gums. Besides being nutritious, fruits and veggies scrub your teeth while you chew and stimulate the production of saliva, which is necessary for neutralizing acid and rebuilding enamel.
Nibble on nuts. Nuts contain protein, fiber and healthy fats. They also contain essential vitamins and minerals to keep teeth strong and gums healthy. Further, chewing nuts stimulates saliva production, lowering the risk of tooth decay.
Go for the grains. Studies have shown that eating too many refined carbohydrates such as white bread and sweet bakery items can lead to chronic inflammation, which is a factor in gum disease, heart disease, stroke and other conditions. In contrast, eating complex carbohydrates such as whole grains may reduce inflammation in the body.
What you put in your body can play a big role in preventing tooth decay and gum disease, so choose foods that provide the right building blocks for optimal dental and overall health.
If you have questions about how nutrition affects oral health, please contact our office or schedule a consultation. You can learn more in the Dear Doctor magazine article "Nutrition & Oral Health."
By Dr. Millay
April 17, 2014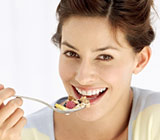 What and how you eat and drink has a significant impact on the health of your teeth and gums. Therefore, an effective oral hygiene regime must take your diet into account.
Acid is your teeth's enemy; it can erode their protective enamel coating (a process called demineralization). Certain foods and beverages (such as citrus drinks and coffee) contain it, and it's produced by bacteria in your mouth that feed on dietary sugar and release acid as a byproduct (a process called fermentation). Your allies are foods and beverages that neutralize acids, provide minerals and vitamins to repair tooth enamel, and stimulate saliva.
Sugar & Decay
Sugars, the leading promoter of dental decay, exist in many forms in our diet. Some occur naturally, while others — referred to as "free sugars" — are added by the manufacturer, cook or consumer. The latter are most often linked with decay. Soft drinks are the primary source of dietary free-sugars in the U.S.
Sugars in fruit, vegetables, milk and unprocessed, starch-rich foods such as rice, potatoes and whole grains, do not appear to be harmful to teeth. Note, however, that dried fruits contain a highly concentrated sugar level and can stick to tooth surfaces. The sugar substitutes xylitol and sorbitol appear not to promote decay. In fact, there's evidence that chewing xylitol-sweetened gum three to five times daily for at least five minutes (after meals) stimulates saliva flow, which helps protect against decay.
Acids & Erosion
In addition to eroding tooth enamel, acidic foods and beverages create an environment where it's easier for decay-promoting bacteria to flourish. Saliva can reduce acidity but it must have time to work, at least 30–60 minutes. That's why behaviors that maintain acid levels, such as sipping coffee throughout the day, can be harmful.
Saliva-Promoting Saviors
Saliva is a front-line defense against erosion and decay. It helps remove food particles and contains minerals that help neutralize acid and promote remineralization of the tooth surface. Foods that stimulate saliva and/or contribute essential minerals include:
Cheese — stimulates saliva and is rich in calcium, contributing to the re-calcification of teeth and protecting against the loss of calcium,
Cow's milk — contains decay-counteracting calcium, phosphorous and casein,
Plant foods — are fibrous and require chewing, which mechanically stimulates saliva,
Water — keeps you hydrated, which is important for saliva production and preventing dry mouth (a condition that promotes acid-producing bacteria), and helps wash away food particles; fluorinated water bestows the protective properties of fluoride (a compound that makes tooth enamel more resistant to acid erosion and promotes re-calcification).
As you can see, brushing and flossing effectively is just part of the oral hygiene equation.
If you would like more information about nutrition and oral hygiene, please contact us or schedule an appointment for a consultation. You can also learn more about this topic by reading the Dear Doctor magazine article "Nutrition & Oral Health."