Posts for tag: pregnancy
By Dr. Millay
April 02, 2014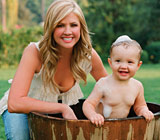 During Nancy O'Dell's interview with Dear Doctor magazine, the former co-anchor of Access Hollywood and new co-anchor of Entertainment Tonight could not resist her journalistic instincts to turn the tables so that she could learn more about a baby's oral health. Here are just some of the facts she learned from the publisher of Dear Doctor about childhood tooth decay, pacifier use and what the right age is for a child's first visit to the dentist.
Many moms-to-be and parents or caregivers of young children are surprised to learn that around age 1 is the ideal time to schedule a child's first visit to the dentist. This visit is crucial because it sets the stage for the child's oral health for the rest of his or her life. It can also be quite beneficial for the parents, too, as they can be reassured that there are no problems with development and that the child's teeth appear to be growing properly. And if by chance we identify any concerns, we will discuss them with you as well as any necessary treatment strategies.
Nancy also wanted to learn more about pacifiers — specifically, if it is a good idea for parents to encourage their use. Obviously, children are born with a natural instinct for sucking, so giving a child a pacifier seems totally harmless. Pacifiers definitely have some advantages; however, if used for too long — past the age of 18 months — they can cause long-term changes in the child's developing mouth (both the teeth and the jaws).
Another problem that parents and caregivers need to be aware of is baby bottle syndrome. This is a condition that develops in children who are perpetually sucking on a baby bottle filled with sugary fluids such as formula, fruit juices, cola or any liquids containing a large amount of sugar, honey or other sweeteners. It is important to note that a mother's own breast milk or cow's milk are good choices for feeding babies, as they both contain lactose, a natural sugar that is less likely to cause decay. However, if these liquids are placed in a bottle and a child is allowed to suck on it throughout the night, they, too, can promote tooth decay. The key is to feed your child properly while avoiding all-night feedings and liquids loaded with sugar.
To read the entire Dear Doctor magazine article on Nancy O'Dell as well as to learn more about a baby's oral health, continue reading "Nancy O'Dell — A life full of smiles." Or you can contact us today to schedule an appointment so that we can conduct a thorough examination, listen to your concerns, answer your questions and discuss any necessary treatment options.
By Dr. Millay
December 04, 2012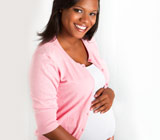 A pregnant woman has a lot to think about while preparing to welcome a new member of her family. It's important to think about her oral health as well. She is sharing her body with the developing infant, so problems with her health — including her dental health — can affect the baby. The following facts will help you understand the relationship between oral health and pregnancy.
A baby's primary (baby) teeth begin to form during the sixth week of pregnancy. They begin to form their enamel (the hard outer layer of the teeth) and dentin layer (just under the enamel) at about the third or fourth month. The calcium, phosphorous, and protein that are needed for these structures must all be provided by the mother's diet.
A good diet for a pregnant mother, in order to provide for both her needs and those of the fetus (the developing baby), includes whole grains, fruits, vegetables — including green leafy vegetables — proteins and dairy products. A doctor may also recommend iron and/or folic acid supplements.
If the mother's diet does not provide enough calcium for the baby's bones and teeth, it will come from calcium stored in her bones — not from her teeth. The old idea that a mother's teeth lose calcium during pregnancy has been found to be a myth.
Progesterone, a normal female hormone, is elevated during pregnancy. This hormone stimulates production of prostaglandins, substances that cause inflammation in gum tissues if the bacteria that cause periodontal (gum) disease are present. The resulting swelling, redness, and sensitive gum tissues, called pregnancy gingivitis, are common during the second to eighth months of pregnancy.
The bacteria involved in periodontal disease can affect whole body conditions such as heart disease and strokes, diabetes, and respiratory diseases. The inflammation resulting from such bacteria can also cause premature delivery (birth before 37 weeks of pregnancy) or low birth weight in the baby.
Periodontal disease is also related to pre-eclampsia, or high blood pressure, during pregnancy.
Dental x-rays do not expose the mother to very high radiation, but in any case every precaution is taken to minimize exposure to the fetus. These include a leaded apron that shields the baby from exposure.
Most drugs commonly used in dentistry, including local anesthetics, can safely be given to pregnant women without affecting the fetus. However, it is important to let your dentist know you are pregnant before embarking on any treatment to make sure anything that is done will be safe for the fetus and its developing teeth.
Contact us today to schedule an appointment to discuss your questions about pregnancy and your oral health. You can also learn more by reading the Dear Doctor magazine article "Pregnancy and Oral Health."